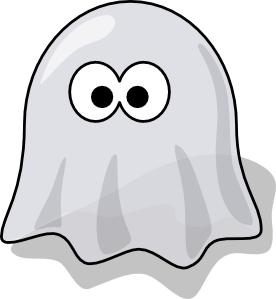 Um, this is going to sound strange.
I think there's someone living with us! Ahem, and I don't mean 'living' exactly.
Weird things have been happening around our house lately. To start with, Jem and I both have been seeing things out of the corner of our eye for a long time. It only seems to happen at home (for me anyway). Then I noticed a few times that a little cupboard we have was hanging open. Jem said he didn't open it and I know Aus can't as it has a hard to move catch, even I can barely pull it back far enough to open it.
There's also a small book case right next to the cup'd and several times it has been standing out from the wall a bit. Jem says he didn't do that either, but it could have been Aus.
But lately I feel like there is something going, or it's getting worse. The other night Aus woke up crying, I went in to settle him and his top cup'd was hanging open. I didn't open it and Jem says he didn't either. I closed it though and it stuck tight. What is even stranger about this is that it has no handle on the outside, I broke it off a while ago. So how did it come open? Jem's theory is that the house is old and probably moving a lot so it just popped out. I don't think so, it really sticks shut and I would need to use a fair bit of force to open it again.
Aus has recently started waking up screaming. I don't know why, when we ask he just says he doesn't know. I think it's because he doesn't have the words yet to say what he wants. I asked if he had a bad dream one day and now that's all he says, 'bad dream Mummy!'. But he never says anything like 'there's someone in my room' or anything like that. It still gives me the shivers when I put him to bed in there though- I want to take him out and let him sleep in our bed.
Something else that happened the other night- Jem went to the supermarket and took Aus with him. I was sitting on the couch with Noah in the lounge room. So it was just us home. I had left the baby monitor on in our room where Noah usually sleeps. All of a sudden I heard someone mumbling in our room. I was too petrified to move and go check it out. I suppose it could have been someone next door just near our room as the baby monitor picks up quite small sounds. But I didn't feel that's what it was at the time.
There are some other strange happenings, like musical toys going off in the middle of the night. But tonight Jem told me he thought he saw something in Aus's mirror when he was putting him to bed. His words were 'I thought I saw a ghost'.
I feel like there really might be something here. And strangely I am getting a female vibe- don't ask me why. Am I going nuts? Seriously, am I losing my mind? Has anyone ever had anything like this happen to them? If there is 'someone' here what the hell do they want? And what should I do to make it go away!?!? I'm freaked out and all I can think of is getting my kids out of here! Eeep!
Someone tell me it's all in my head!